"SPARK has some of the most phenomenal, down to earth entrepreneurs and big thinkers. It sparks a blazing fire in you to find your passion and work at it and I'm so grateful to be a part of this program!"
Kisalka de Silva
Workshop: The Art of Authentic Networking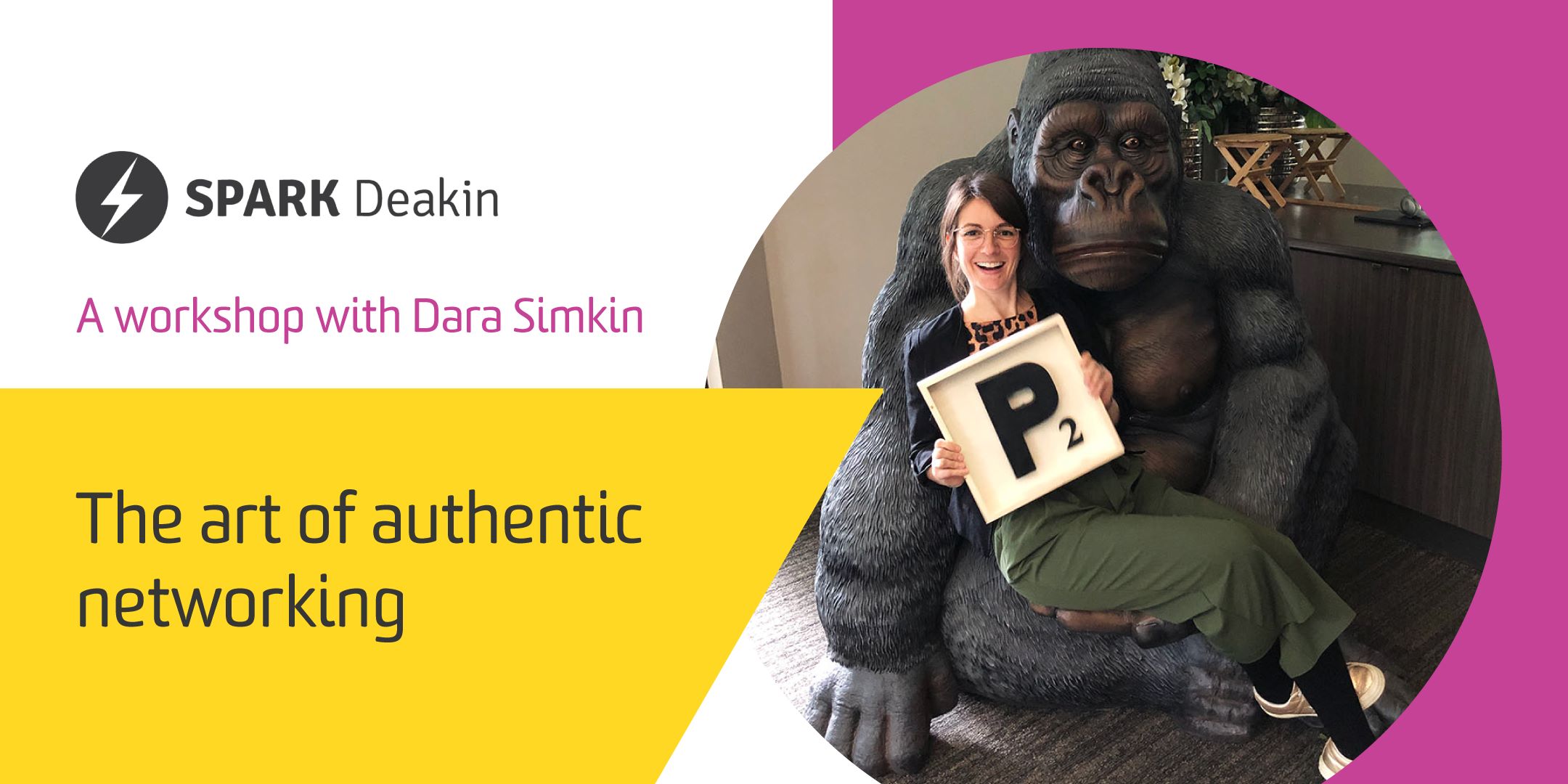 Tuesday, 12 November, 6:00 pm - 8:00 pm at Deakin Downtown
The word "networking" conjures up negative images for most of us. Surface level conversations that always start with, "What do you do?" are enough to make any sane person want to run in the opposite direction. Networking is about building real relationships without ulterior motives to "get something" from the other person.

We need to avoid appearing as if we're reaching out to others with purely selfish motives and with the sole objective of "taking" and not "giving". With the idea of "Givers Gain", we start to understand the concept of what it means to truly collaborate and support one another. This is the art of authentic networking.
SPARK Deakin is running a whole week of activations across Deakin campuses and startup-focused venues across Melbourne to celebrate Global Entrepreneurship Week (GEW) on 18-24 November 2019.
Activities during this week will include fireside chats, a hackathon, a pitch fest, webinars, social events, mentoring office hours, startup matching, and various other events run by SPARK Deakin partners and collaborators.
The week invites students, entrepreneurs, investors, social-changemakers, and key players from our local startup ecosystem to embrace diversity and collaborative learning to create a thriving future underpinned by entrepreneurial thinking and the UN Sustainable Development Goals. This theme recognises the importance of equipping your people with entrepreneurial capabilities to thrive in the changing landscape of work, and to explore innovations and multi-disciplinary relationships that help build a thriving and more sustainable world.
Attendees, participants, and contributors will leave feeling inspired, optimistic, and ready to make a difference.
Want to join in on the fun?
Partnership, sponsorship, and volunteering opportunities available.
Submit your interest to by contacting us at spark@deakin.edu.au
Demo Day
We invite you to the SPARK Deakin 2019 Accelerator Demo Day where you will hear from our teams at the end of the Accelerator journey.
Thursday, 5 September at 6pm
Melbourne Theatre at Melbourne Museum, 11 Nicholson Street, Carlton 3053
Take the pulse on Melbourne's emerging startups from Deakin University at Demo Day. You will learn, be inspired, and make powerful connections. You'll be in great company, joining an audience of curious thinkers, venture capitalists, entrepreneurs, and potentially your next big collab.
Demo Day showcases and celebrates our startups' achievements from the 3-month program. Hear our teams pitch their startups, share their vision and progress.
Startup Venture Crawl
We ran our first Startup Venture Crawl earlier this year and took a dedicated bunch of young entrepreneurs and change-makers to meet with the pros at Google, LaunchVic, Envato, Impact Investment Group, SproutX, CyRise, the 11th Space, Startup Creative, and Blackbird Ventures. Check out what past participants Fiona (here) and Eleanor (here) had to say.
Startup Venture Crawl 2.0, 31 July 2019 from 10.30am
Venue: We're visiting various Startup HQ's in Melbourne!
Venture Crawl 2.0 is now coming at you with an opportunity for you to connect with real-world businesses, be inspired by Melbourne's vibrant entrepreneurial ecosystem, and gain skills in self-confidence, creative-thinking and leadership.

Join us to explore Melbourne's top startup, innovation and entrepreneurial hubs.
Apply to join Venture Crawl 2.0 now (applications are open until C.O.B. 20th July 2019).
Dream, Girl: Screening & Panel
Our screening of Dream, Girl, was hosted in partnership with That Startup Show & acmi-X.
Dream, Girl is a documentary showcasing the stories of inspiring & ambitious female entrepreneurs that premiered at Obama's White House. The documentary was directed by Erin Bagwell and an all-female crew.
On our panel, we had Anna Reeves (CEO & Executive Director of That Startup Show), Sheryl Thai (CEO & Co-Founder of League of Extraordinary Women and Founder of Cupcake Central), and Sakshi Thakur (Co-Founder of Humanism, a social enterprise on this year's SPARK Accelerator cohort).
PAST EVENT - Thursday 27 June, 2019
Proudly hosted at acmi-X at 4/2 Kavanagh Street, Melbourne
A community to thrive with
Our events connect you with people who've built successful businesses. But more than that, you'll meet people just like you in the crowd - people who want to be inspired and create a better world.